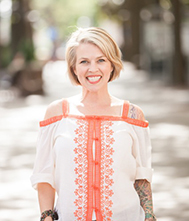 I love bringing my knowledge of yoga, spiritual teachings, and life coaching to class, creating a space catered to each individual who unrolls their mat and sits with me.
My own 12 step recovery program allows me to show up on the mat with compassion and understanding. Having experienced my own first days, weeks, and months in recovery, I bring reassuring support and encouragement to each person who practices at Choices.
Classes are heart centered and laid back. I meet each person where they are in the moment. We start each class by checking in to see how everyone is doing, we sit quietly, and find our breath. Then we move. Classes are about grounding in who we are so we can expand our authentic light into our world. My goal for each person who leaves my class is for them to feel more centered, stronger in their body, more open in their mind, and more connected to their spirit.
I have practiced yoga for 15+ years and became an Align & Flow yoga teacher through Rasika Yoga School. My full-time gig is as a Life Coach. I have my own practice and work with clients in the US as well as the UK. I look forward to seeing you on the mat.