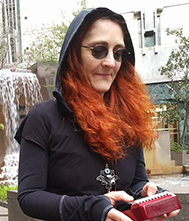 Ewanna (Ioana Voicu) is a multidimensional healer, using energy and sound medicine, meditation, movement, and shamanism to help people access their own paths to healing.
She holds a Doctor's of Medicine, Bachelor in Psychology, and Master's of Social Work, all achieved in her birth country, Romania, Europe. She has years of professional training in Experiential Therapy and practice in clinical and social settings, especially serving families in needs, homeless and institutionalized children and youth, most fighting addictions.
Her move to the US in 2007 had been not only a leap of faith across the ocean, but also a quantum leap from the modern, allopathic practice into alternative medicine and wholistic ways of approaching human existence and healing. She soon trained and certified in Qigong and Qi (Energy) Healing, Tai Chi for Health, therapeutic drumming and dancing.
No matter what modality she uses, Ewanna has a special ability of transmuting pain into love through a heart to heart empathic connection. In reference to the classic representation of the mind – body – spirit triangle, she says:
"We are Multidimensional Beings - physical, emotional, mental, spiritual, and relational. We are not triangles. We are five-pointing Stars."
At Choices, she is bringing Qigong as movement and meditation, and sound as healing energy.